I am a person who listens to my clients and believe his or her story. I am detailed oriented and solution focused. If your story has a negative effect, I can help you navigate to a positive one. My goal is to help you take initiative, to utilize your inner resources and bring out the best in you.
We believe in our own possibilities and so can you!
Videos & Troubled Kids
The videos on our homepage reflect not only the behaviors of troubled kids, but also reflects how we can help you. Using the art of motivational speakers and professional counselors we can restore our children.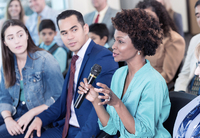 ALL SERVICES WILL BE RENDERED OR REFERRED ACCORDING TO THE COUNSELOR'S FIELD OF STUDY __ORDERED BY CEO